These are beautiful and work wonderfully for display tables. You'll notice that these tables look nice even when they are empty, so they work perfect for giftware, pumpkins, pottery, etc. Maine Attraction is our custom line, made just how you want it!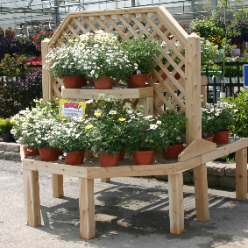 Benchmates
Our innovative Benchmates are stackable benches with a white cedar trim that can be left to age naturally or stained; either option adds a softer look and is very appealing to the eyes. These are very useful in that they can be used for growing and display
Retail Ready
Our mid-range collection of affordable store fixtures. Designed with the assistance of Judy Sharpton/Growing Places Marketing. They have the most wood and display space for your dollar. Retail Ready fixtures come with galvanized mesh. They can be customized with green coated mesh for an additional charge. Please call for custom pricing.
3 Tier Retail DisplayOur 3 Tier Retail Display is for garden centers, nurseries and retail greenhouses. They are made from galvanized steel tube and galvanized Channel Bench Tops. The 3 Tier Displays have shelves that are easily adjustable from flat to angled.

Click on a picture to view current specs and prices